Fun at
Scrapbook Nook
! Just in case you're in need of some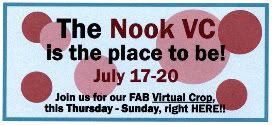 more inspiration from the Nook,
GO NOW
! lol... I already have one in and want to do (1... 2... 3...) all the more!! Go have a looksee - you can play once or alllllllll weekend long, baby. :)
How
about some sleep? Or lack thereof? Come on down to
ScrapStreet
for the (not-at-CHA-and-we're-trying-not-to-be-bitter)
SNS SLEEPOVER
!!